Among the misty mountains in south west Uganda you can find the mighty mountain gorilla. With only 900 gorillas left in the world extremely endangered but happily they are slowely growing in number. The Silverback, the leader of the pack, can be 180 cm high and weigh up to 180 kg. They live in families with about 10 individuals and the gorillas are vegetarians.


The biggest threat to the gorillas is the hard harvesting of the forest to create more space for growing.
THE ORUZOGO FAMILY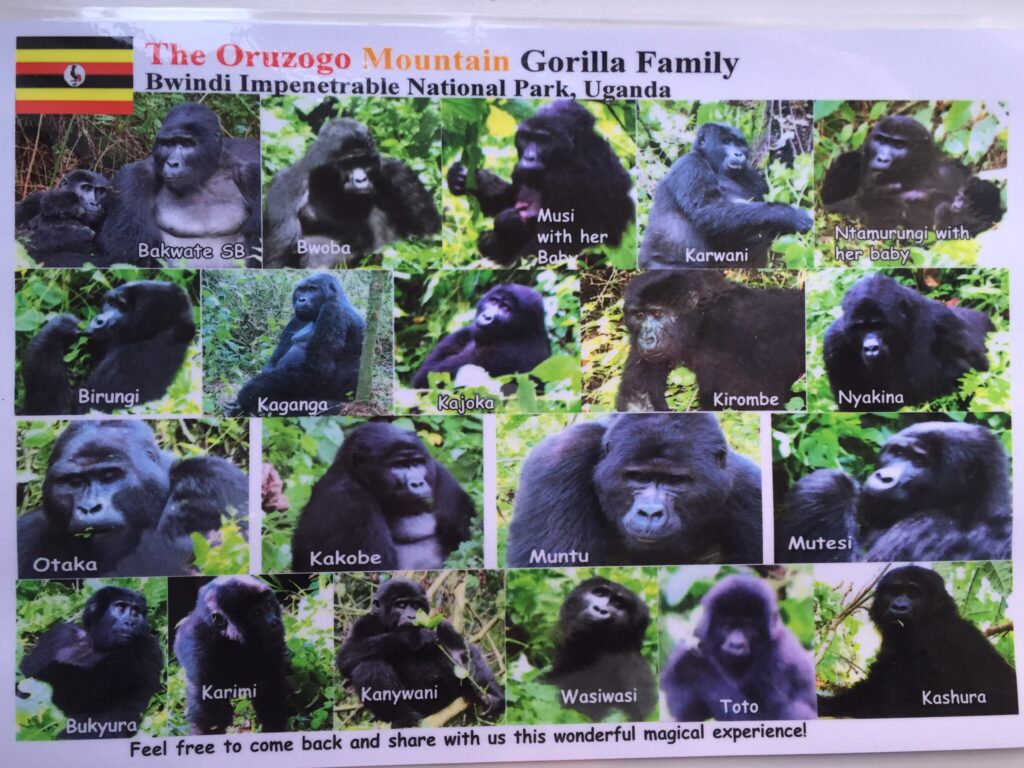 We gather at the meeting point in Ruhija an early morning in September. Our guide takes us through the security rules and tells us about "our" gorilla family, the Oruzogo.
The Oruzogo family is one of three habituated gorilla families in Bwindi Impenetrable National Park. It is a large group wiyh over 20 members.


We start the hike in a ssmaall village crossing the fields where the children are working.


Our great guide, trekkers and carriers have told us it is pretty certain we will meet the gorillas but you never know how far you have to hike before you reach them.


The forest is pretty dense…
Zacharias, our guide, has told us that we will probably smell the gorillas before we see them so our little group of fiveare sniffing our way through the rainforest.
But suddenly he is just sitting in front of us…


Meet Tibrikwata the dominant silverback and head of the family.


One of the rules was that we weren't aloud to get closerto the gorillas then 7-8 meters. But this was impossibly, suddenly we where surrounded of the Oruzoga family.


One hour is what you get after that you havee to leave the gorillas at peace again. Bur what an hour, talk about goose bump moment!
When Zacharias told us we had to leave I could feel tears on my cheek. What an amazing experiance!


Back out of the forest it was time for a lunch break.


Gathered at the meeting point again it was time for our certificate, happy, happy me!